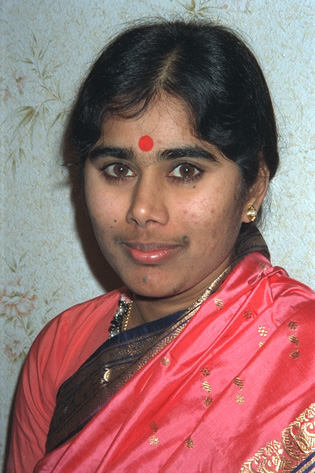 March 2:
Due to Mother Meera's extensive tour to North America, we have decided to CANCEL this tour to Germany. If you want more information about Mother Meera's visit to North America in April-May 2007, please go to:
http://www.mothermeeranortheast.com
Namaste.

A Personal Invitation to
Experience the
Light of
MOTHER MEERA
August 15 - 22, 2007

Special Spiritual Tour

4 evenings of "darshan"
In the Rhineland, Germany

A group of just 10 people
With Chet & Kallista Snow
THE AUGUST 2007 TOUR HAS BEEN CANCELED

My wife Kallista and I invite you to Germany to experience a remarkable person known as Mother Meera, an Avatar (a Spiritual Master in human form), born in India just 46 years ago but living in Europe for the last 24 years. Since 1991, we have made regular visits to her home to be in her presence and experience her "darshan" or transmission of special, life-changing, Light and Energy. In silence and meditation, she touches each person who wishes it and she has answered the prayers of thousands. In 2006, Mother Meera made a historic multi-city trip across North America. If you experienced her "darshan" then and would like to have the unique experience of four consecutive evenings at her public-home in Germany, please join us in August 2007.


Ten years ago, having received Mother's blessing to bring a small group of sincere spiritual seekers with us, we organized our first small-group tour. Ten people accompanied us to her home in Thalheim, Germany. Our group included people from many different professions and ethnic backgrounds. About half were personal friends. We are not exaggerating when we say that for everyone it was "the trip of a lifetime". Encouraged by this success, we have taken a small-group of just 10 persons to visit her and to see the convent of Hildegarde von Bingen, each year since. Each year the experience has enriched us and those who've accompanied us. August 2007 will mark our 10th Anniversary tour. We are happy to offer this 7-night tour on August 15-22, 2007.

Mother Meera holds her darshan experience on Friday, Saturday, Sunday & Monday evenings. Tour members will arrive in Germany on a Wednesday morning so all participants will be fully rested and prepared for this unique experience that could literally change your life.
During this wonderful week we will also visit several nearby historic spiritual sites including the Cologne and Limburg Gothic cathedrals, ancient Teutonic sacred mounts, shrines and healing springs. We'll dine at excellent yet affordable country inns, plus take an unforgettable boat trip on the

Rhine river

with a visit to the monastery of medieval mystic, healer and prophetess: Hildegarde von Bingen. Here, in age-old tradition, Roman Catholic nuns continue to grow herbs, natural grains and make excellent wine. Mid-August is an ideal time to visit this beautiful, historic part of Germany, known as the Rhineland.
The tour will end on a Wednesday although, if arranged in advance, participants may stay longer in Europe for personal sight-seeing.
The August 15 - 22, 2007 Mother Meera Tour includes:
Private mini-van transportation (from the Frankfurt airport to hotel, sightseeing, also to "darshan", and return to Frankfurt airport) for one week.
7 nights lodging in a small restaurant-hotel (twin-bedrooms), near Mother's "darshan home" with a wonderful continental breakfast each day [Optional light dinner also served after "darshan". A few Single rooms are available for a $250 supplement - contact me for details.
Sightseeing to Limburg cathedral & old-town market, the Rhine valley (Loreley, Hildegard von Bingen convent), Cologne cathedral, local sacred chapels & healing springs, plus other noteworthy sights. Some sightseeing admissions plus Rhine boat trip tickets [=15 Euros] are at travelers' expense.
We can research low-fare air tickets from theUSA but air fare is Not included.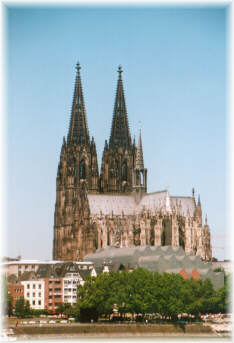 PRICE: $1,450 including round-trip air fare to Frankfurt. We can help you research low-cost air travel from US departure cities on request. Single room supplement: $250. NOTE: These prices are guaranteed unless the US dollar falls 5%+ below the Euro exchange rate of September 1, 2006 or fuel costs rise 5%. In that case, a supplement will be added to make up the additional costs.

Flights from the USA depart Tuesday night, August 14; we will meet you

inside the Frankfurt Airport

at about 11 AM on Wednesday morning, August 15. We will return you to the Frankfurt Airport at 11 AM on Wednesday, August 22. [Be sure to allow for 2.5 hours

after 11 AM

before your scheduled departure]. Different return flights from Frankfurt can be arranged for those who wish to stay longer than August 22, if advance notice is given. In that case, travelers will be responsible for their own return transportation to the Frankfurt airport [rail service to the Airport is easy].
Becauseof the special, intimate nature of this experience, a maximum of 10 people can participate. Therefore, the first 10 people to respond by sending their deposit of $250 will be accepted. This deposit is due NOW. Additional tour payments will be due on February 10, 2007 and April 10, 2007, with the tour's final payment due in June, about 6 weeks before the tour begins.

The tour deposit is refundable for 30 days minus an administrative cancellation fee of $50. After March 1, 2007, please ask us at (928) 204-1962 for tour refund policies. In general, no refunds are given for tour cancellations after April 10. We suggest purchasing travel cancellation insurance to cover any last-minute emergencies.
See:
www.totaltravelinsurance.com .
Send your $250 deposit to: Dr. Chet Snow, PO Box 1738, Sedona AZ86339.
Our favorite photos from some past Mother Meera tours are here!
Also Explore our Brittany & Malta 2007: Pleiadian Channeling with Barbara Marciniak Tour
[June 21 - July 5, 2007]
and
2007 ENGLAND Crop Circles, Stonehenge and Avebury Tour
[August 2 - 9, 2007]
Click here to return to Dr. Chet Snow's HOME PAGE
[this page updated on March 2, 2007]