Explore England's

CROP CIRCLES

with




Chet and Kallista SNOW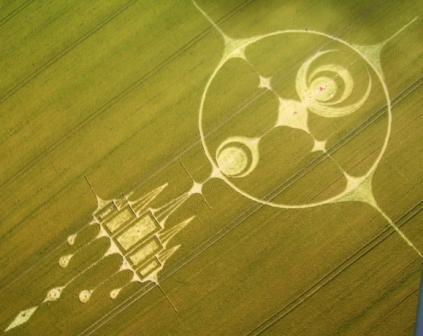 July 24 - 31, 2014*

7 Nights in Wiltshire, England
Visit

Inside

Stonehenge

included!



Fly over the Circles - included!
Meditation with Kallista & crystal-skull

Gaia-Luz



A small, intimate group of only 10 people + the Snows

Attendance at the Sunday Devizes Summer Lectures

With Chet & Kallista Snow

*As of today - April 7, 2014 - this tour is FULLY BOOKED





Crop circles

are like ephemeral agricultural cathedrals – many hold unique energies that compel or repel visitors. No one can predict their impact in advance. They must be experienced to be appreciated. Although they now have been sited in over two dozen countries, including the U.S. & Canada, rural southern England remains the "heart" of the phenomena. Many are clustered around the 4-5,000 year old Neolithic sites of Avebury and Stonehenge where our distant ancestors worshiped the stars.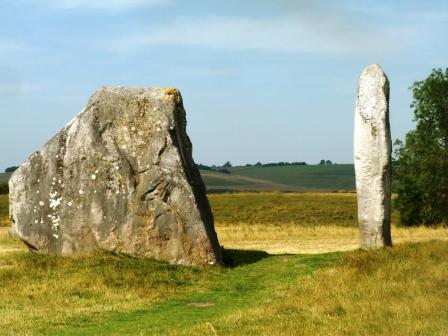 For over a quarter century, across thousands of acres of English countryside, fields planted with crops like rape-seed, barley and wheat have experienced a spectacular transformation overnight. Tranquil landscapes have suddenly been sprouted unusual and imaginative designs made within the crop itself, ranging from a single circle to complex representations of sophisticated mathematical formulas. Ancient spiritual symbols using the proportions of sacred geometry have also appeared, fascinating & intriguing all who have seen them. From 1991 to the present, we've been researching the enigma of these mysterious agriglyphs. June-August 2014 will be the 23th consecutive summer Kallista and I have gone to Wiltshire to experience this amazing phenomenon. In 2013, despite crop delays, our groups went into 4 New Crop Circles and we flew over about a dozen circles during our helicopter flight.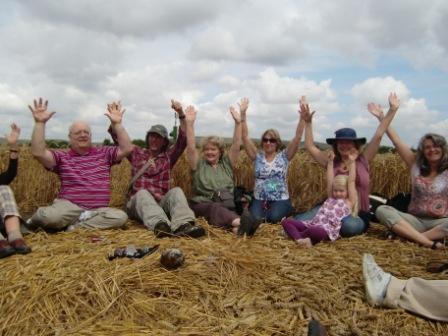 Genuine crop circles, for as with any popular invention a few "copy-cat" patterns can be traced to clever human "hoaxers," respect the principle of Life: most plant stalks are bent at node points but not broken so the crop continues to live and grow despite its being used as a gigantic piece of art. The exact process by which this delicate operation is accomplished still remains an mystery. Scientific research has confirmed that significant changes at the cellular level occur in plants within crop circle formations. That cannot be "hoaxed"! The phenomenon is clearly intelligently planned and has been evolving over the last two decades but who or what is behind it remains shrouded in mystery. And yet, as with many other paranormal events, the mainstream media has all-but-ignored it.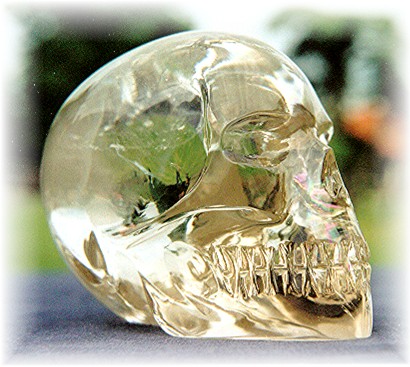 Our July 2014 tour will be our Final UK Tour as we morph into "Seniors" and other interests and adventures claim more of our time. Join us with our activated, contemporary Citrine crystal skull, "Gaia-Luz," and plan to bring your own crystals and/or crystal skulls to join the party! We now will attend the Sunday program of the Devizes Summer Lectures, featuring photographer Steve Alexander & Michael Glickman.

This may be a miracle in the making
!
Come, Explore it for Yourself

The July 24 - 31, 2014 trip includes:
Mini-van transportation for one week - Heathrow Airport transfers to Wiltshire. Local sightseeing in Wiltshire, including going into the crop circles and to restaurants, sightseeing etc. Chet and Kallista Snow are your chauffeurs and guides in 2 mini-vans during this adventure-packed week.

A private "group only" meditation one day with Kallista and crystal skull, "Gaia-Luz," that will accompany us all week.

Visits to Salisbury cathedral, Avebury stone circles, Glastonbury - Chalice Well - the historic market town of Marlborough, the Silent Circle Crop-Circle meeting point; plus a paid aerial flight over the major 2014 crop circle formations, weather permitting.
PRICE: $2,700* Round-trip air fare to London-Heathrow is NOT included.
Single Room supplement: $300. We cannot guarantee you a room mate and if none is found, the Single supplement must be paid. If you know you are a loud snorer and do not have someone registering with you, then please request a Single room.

* 2014 Tour price is guaranteed unless the US $/GB £ exchange rate drops 5% or more from the 8/1/13 rates or gasoline goes up over 5% from 8/13 UK prices. If required, a fuel or exchange-rate surcharge will be declared in June 2014. This has never exceeded $100 per person.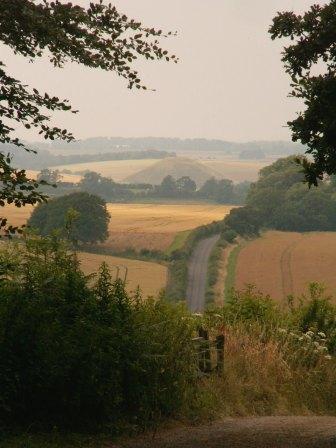 NOTE: Participants will meet in the Heathrow Airport Terminal 5, Arrivals lounge = NORTH MEETING PLACE, at 12:00 pm on Thursday, July 24 and will be returned to Heathrow Airport on Thursday, July 31, but only at 11 AM. Please do NOT schedule flight departures on July 31 before about 1:30 PM as you need 2.5 hours after our 11 AM arrival at Heathrow for security checks. If you live west of Chicago, we recommend flying to Britain 24 hours before our scheduled meeting time and staying overnight nearby because we cannot wait for the airlines' increasingly-common flight delays. Anyone who is not at our designated meeting place in the Arrivals lounge of Terminal 5, ready to be picked up and depart for Wiltshire on July 24 at 12:00 pm (Noon) must get their own transportation to Wiltshire.

If delayed, please phone our Wiltshire accommodations and tell them your circumstances. Kallista will also have her British Cell Phone for you to call us. There is train service to Pewsey, about 10 miles from our lodgings, for anyone so delayed. We can recommend near-to-Heathrow hotels to you when you register. Look up the Park Inn/Heathrow etc...
We CANNOT accommodate early-morning return departures to the USA or flights to or from Gatwick Airport as our Wiltshire accommodations are too far away. Heathrow is the only London airport closest to Wiltshire.

Those who must fly out early are asked to stay over-night on July 31 near Heathrow or arrange their own transport to the airport (it costs about 100 GB Pounds for a taxi from Wiltshire or there is train service to & from Pewsey). We can drop you at a hotel near Heathrow Airport that has bus service to the Air Terminals on Thursday, July 31 when we take the rest of the group to Heathrow . E-mail me if you must fly out before 1:30PM. To e-mail me, click here: chet-snow = cbsnow AT npgcable.com (amper-sign changed due to automated spamming)
Due to the seasonal, weather-related nature of Crop Circles, we cannot guarantee they will appear in July 2014. For the past 23 years, however, we've never been disappointed. You owe it to yourself to see this amazing phenomenon first-hand.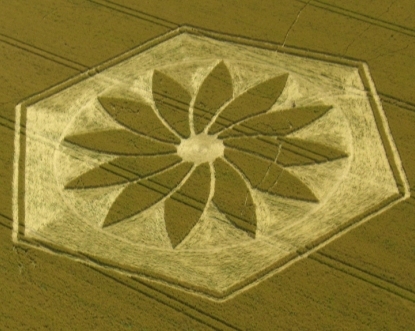 Due to the special nature of this tour, only 10 people can participate. The first 10 people to mail me their deposit of $500 will be accepted. This deposit is due: NOW. It is refundable for 30 days or until March 1, 2014, whichever comes first, minus a 10% administration fee. Additional payments will be due in March and April with the final payment in May. Tour must be fully paid by May 30, 2014. I strongly recommend you also e-mail me [click here: chet-snow ] when you mail your deposit.

Interested ? E-mail me - click here: chet-snow I recommend travel cancellation insurance to cover last-minute emergencies as NO refunds are possible once hotel and other local fees are paid in April 2014 unless you find someone to take your place. Check the web for trip cancellation insurance: usually you must buy it within 10 days of paying your tour deposit to be fully covered. I recommend: www.insuremytrip.com to compare insurance policies and prices.
Please make ALL checks payable to: "Dr. Chet Snow," and mail to: Dr Chet Snow, PO Box 1738, Sedona AZ 86339
NOTE: Although we prefer personal checks or money orders, some payment by credit card can be arranged, but only after your deposit check is accepted. You must speak with me about this policy by phone, so call me, Dr. Chet Snow, at (928) 204-1962.

E-mail me - click here: chet-snow for all other tour policies, including single room availability. All tour registrations are based on two people sharing a twin-bed room (or a double bed for those registering as couples). A single-room supplement of $300 per person will be charged to those tour members who either request a single room OR who register alone and for whom no suitable room-mate is available by May 1, 2014.
| | | | |
| --- | --- | --- | --- |
| "Solstice" at Oare | Cley Hill 3-D Cube | Milk Hill "Spacecraft" | |
Some of our favorite 2010 Crop Circles

Click here to return to Dr. Chet Snow's HOME PAGE

This page was last updated on 4-07-14