Your Hosts: Chet and Kallista Snow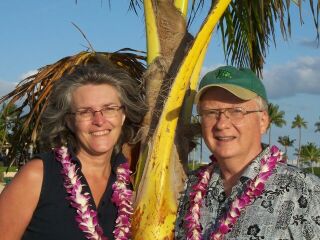 Chet & Kallista Snow in Hawaii, April 2006

Chet Snow, Ph.D.,
is an internationally-acclaimed author, lecturer and regression therapist with degrees from Columbia University and the Sorbonne in Paris. His wife,
Kallista Snow
, from France, has studied yoga, reflexology, therapeutic massage and mediation. Having met initially in Paris in 1985, they were brought together as a couple in December 1991 by Mother Meera, their spiritual mentor, a master (Avatar) now living near Frankfurt. Since 1994 they have lived in
Sedona, Arizona,
long recognized as sacred land by Native Americans. Their Sedona house, built by members of the White [Healing] Lodge of England, was once home to Hopi spiritual leader,
White Bear
.
With Mother Meera's permission, Chet and Kallista organized their first "sacred journey" for a group of ten to Germany to receive her "darshan" [blessing] in June 1997. The following summer they added a small-group trip to England to explore the mysterious crop circles appearing there for the last two decades as well as ancient sacred sites such as Stonehenge and nearby Salisbury cathedral. In September 2000 they hosted a 10-day pilgrimage to Provence and Languedoc, Kallista's former home with Barbara Marciniak and 13 special people to explore the mysteries of the Cathars, Mary Magdalene and Holy Grail. Since then they have led spiritual research tours to the French Black Madonnas, Mary Magdalene in France and Morocco: Gateway to Atlantis. Each summer they have lead a small-group (10 people) tour to the English crop circles. In 2012, due to the London Olympics - that will overcrowd England just at the "peak" of the crop circle "season," they have decided NOT to participate - but they plan to return in Summer 2013. E-mail them if you are interested: cb-snow.
In November 1989, Chet Snow authored Mass Dreams of the Future based on Helen Wambach's pioneering concept of "future-life progressions". He has also authored a guided meditation audio cassette, Transformational Journeys, and two videos: Earth Shift, and Star Visions, a history of the crop circle enigma. In 1993 he helped Dr. Winafred Lucas with The Handbook of Regression Therapy, widely considered the most-serious textbook in the field. Chet has given over 750 past and future-life lectures and seminars in English, French and Spanish on three continents, including a lecture at the United Nations in 1994. He has also been featured on Sightings, the Art Bell Show and NBC's Ancient Prophecies, as well as in several documentary films.
Dr. Chet Snow is former president of the Association for Past-Life Research & Therapies, a group of about 1,000 therapists world-wide. He also edits the annual Mass Dreams Newsletter, updating his future predictions. Since early 1998, Chet and Kallista have organized and hosted several international conferences in Sedona. Three of these focused on "Crystal Healing and the Ancient Crystal Skulls," including the largest gathering of these ancient sacred talismans in modern times, while the fourth and fifth were their February 1999 "Earth Mysteries and the Millennium," featuring Edgar Mitchell, Zecharia Sitchin, Linda Moulton Howe, Neil Freer and Barbara Marciniak and November 2001 "Cosmic Connections," including a special "Day with Zecharia Sitchin." In November 2002, they moved America's annual Crop-Circle & Ancient Mysteries Conference: "Signs of Destiny," to Phoenix. In 2004, they hosted Jose Arguelles & John Major Jenkins headed a "Signs of Destiny" Conference on "The Road to 2012". The Conference was a great success.
Starting in November 2007,

Chet & Kallista

have organized and hosted the

"Secrets! Conference"

series

.

Their 2007 conference featured best-selling authors Whitley Strieber, Barbara Marciniak and Andrew Collins. On

November 21-24, 2008

, they hosted

"Secrets! What the Mainstream Media Won't Tell You!"

. Keynote Speakers included Richard C. Hoagland, David Wilcock and Dr. Nick Begich.

November 20-23, 2009

saw them present:

"Secrets! The Energy Revolution,"

exploring new energies for Healing & Power. DVDs were made of all the 2009 Conference presentations including sound-healer

Jonathan GOLDMAN

; new science & spirituality teacher,

David WILCOCK;

and the Disclosure Project's founder,

Dr. Steven GREER

. Also featured were authors,

William Henry

,

Jeane Manning

,

David Sereda

, and the Ancient Crystal Skull:

Synergy.

A 2009 Keynote speaker

Richard C. Hoagland

also gave a special 2 hour+ workshop on "JFK, the Moon & 2010".



November 18-21, 2011,

marks their

Emergence Conference - Expanding Reality - Going Beyond 2012

.

Keynote speakers include

Drs. Raymond Moody, JJ Hurtak, Desiree Hurtak,

and

Nancy Talbott, William Henry,

visonary

Nicolya Christi

and

Synergy

. Chet & Kallista's conference web page is:

www.chetsnow.com/signs.html .

In February 1991, Chet Snow was invited to meet with spiritual elders of the Hopi nation and allowed to photograph their sacred, prophetic petroglyphs. Struck by the similarities between them and recent crop circle formations in Britain, he has personally studied this phenomenon since then, traveling to southern England every July for the last 10 years to compare the circles' symbolism to ancient markings from indigenous cultures around the world. Since 1993 Kallista has joined him in this research and in hosting an annual small group tour to sacred sites in Wiltshire. They host this tour each August for one week and are the main US distributors of the Wiltshire research Crop Circle Calendar, the only one to feature current-year formations. See: Calendars to order online.
In May 1999, Chet and Kallista were honored to receive
Gaia-Luz
,
a pure citrine crystal skull, recently hand carved in Brazil by native artisans, and weighing about five pounds. Native cultures around the world have long revered the human skull as the guardian of special powers and intelligence. For thousands of years, native artists have sculpted skulls from quartz crystal because crystal can store, amplify and later transmit pure universal knowledge and energy. These crystal skulls became powerful tools for healing and light. An ancient prophecy has foretold that their coming together before the year 2012 will help Earth and humanity make a quantum jump forward in our consciousness. Today, ancient and newly-carved crystal skulls are reappearing into public view to help all light-workers as we prepare for these transformations.
On
May 19-21, 2007,
Chet, Kallista and
Gaia-Luz
hosted a unique event in Sedona:
The Four Directions Wisdom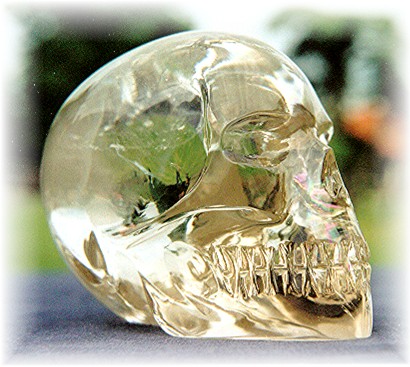 Gathering
. This gathering included
Synergy,
a mysterious ancient crystal skull
, owned by Sherry Whitfield Merrell. 5 Native American elders offered teachings and prophecies about the coming "earth changes" and how we can prepare ourselves for them. It was a sharing heart space to be repeated when Times are right.
Preliminary indications are that the "Right Time" will be
June 2-7, 2012
... See
Hawaii
Gaia-Luz
whose name means "
Earth Light,
" decided to join Chet & Kallista because their travels and contacts are helping her better understand what it is to be a human being. She is also here to bring others her knowledge of the Light and of Universal Love. Kallista serves as her voice in guided meditation.

Gaia-Luz

will accompany Chet & Kallista on all their

Sacred Journey Tours

this year.


They invite you to join all three of them as your heart leads you
.
Namaste
.
When not traveling, Chet and Kallista Snow can be reached at:
PO Box 1738, Sedona AZ 86339
Tel: (928) 204-1962
Fax: (928) 204-1955
E-mail (click here): chet-snow
If you are interested in Dr. Chet Snow's books or tapes, or other selections from their Conferences, about Crop Circles, Mother Meera, the Crystal Skulls etc., please go to: Mass Dreams Boutique .

Return to
Dr. Chet Snow's Home Page
This page last updated 11-3-11