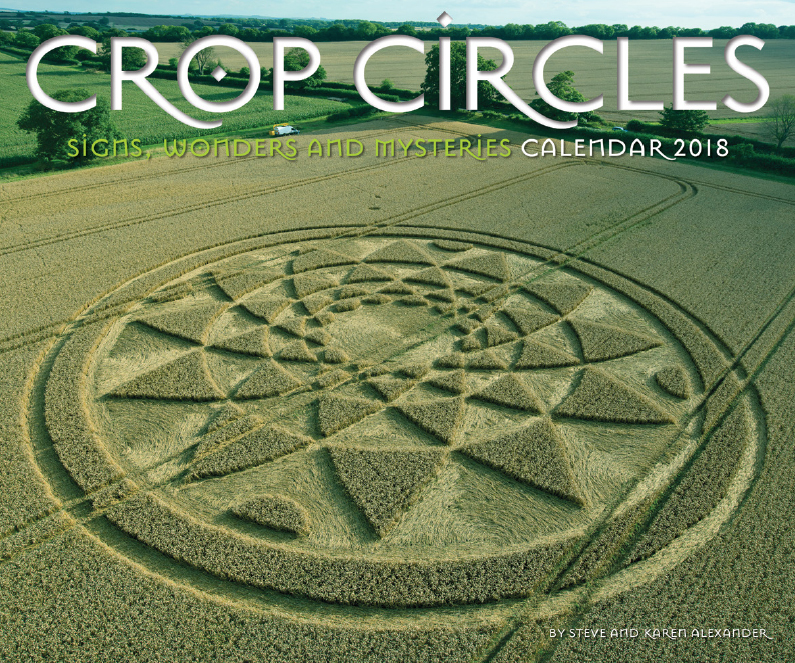 2018 Crop Circle CALENDAR




201

6

Crop Circle Yearbook notice below

All Calendars and Yearbooks are imported from England


GREAT HOLIDAY GIFTS - GUARANTEED CONVERSATION STARTERS !



A 2018 Calendar costs: $23. plus postage of $5.00 (USA)

Arizona orders only must add: $2.40 Sales Tax per calendar.


NEWS FLASH!! This 2018 Calendar from England has
the NEW 2017 Crop Circle photos!!

Steve Alexander's all-new Calendar features This Year's Formations!

Buy via Pay Pal (below) and all taxes and shipping fees up to 5 items will automatically be added to your check-out total. It's the easiest way to buy! PLEASE e-mail me: chet-snow if buying 6 or more items, sent to the same address. If you want items shipped to different addresses, single-calendar prices apply.

The 2018 Calendar

is a rectangle of 10" x 12" size



The 2018 Calendars contain a collection of England's best Crop Circles, entirely from the 2017 Season. With sumptuous photography by Steve Alexander, commentary by Karen Alexander, and bold crop circle graphics by Bertold Zugelder. They are the perfect way to introduce friends and family to Crop Circles and make striking wall decorations, with an attractive grid to mark important appointments!



The sample page at the right shows the SEPTEMBER 2018 Art Work: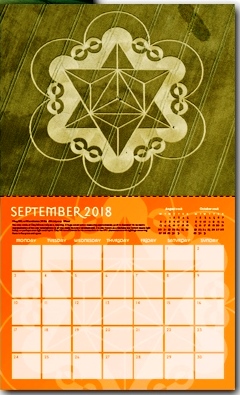 Please use the Link Below to Print our mail-in order form or use the PAY PAL system to pay by Credit / Debit Card.
Phone us for Information: (928) 204-1962 - We regret but we can no longer take Credit orders over the Phone; only by Pay Pal.

WORLD-WIDE - You can order the 2018 Calendar from us via PAY PAL - see below.

For Canada/Mexico: add $7.00 US dollars for the 1st item & $6.00 US dollars for each extra item unless ordering via PAY PAL below - shipping charges are automatically added at checkout.


We accept Credit cards ONLY via PAY PAL or personal Checks & Money Orders (in US dollars only), payable to: Dr. Chet Snow and mailed to Dr. Chet Snow - PO Box 1738 - Sedona AZ 86339 USA. Print Order Form below and mail to me for best service. Or use PAY PAL.


Click Here to print an Order Form for 2018 CALENDARS





Our supply of the IMPORTED 2018 Steve Alexander Crop Circle Calendars is limited


E-mail all order inquiries to : chet-snow OR CALL (928) 204-1962 if you have questions.
PLEASE ORDER NOW! When we are out of 2018 Calendars, that is IT!!


WORLDWIDE - YOU CAN ORDER A 2018 CALENDAR via PAY PAL


ALL Pay Pal Orders USA + Abroad now include appropriate shipping + tax at checkout

---


The NEW 2016 YEARBOOKS ARE NOW AVAILABLE


Go to: www.chetsnow.com/yearbooks.html to order via Pay Pal



Each Yearbook

is $32 per Yearbook, plus $5 postage to a USA address. All International orders, including to Canada, will have extra postage added at checkout when ordered via Pay Pal.

Arizona

orders must add:

$3.00

state sales tax per Yearbook.

2016 Yearbooks have all 2016 English Crop Circle photos.

E-mail me at: chet-snow for all pre-2016 Yearbooks' availability: before you order, please!

We do not know if a 2017 Yearbook will be produced - not before Spring 2018.





This Page was last updated on 10-14-2017